When Beauty Bulletin called for ladies to take part in a hair product review, I immediately entered. I haven't dyed my hair in over a year. The last time I did, I dyed it dark brown to cover the henna I was growing out. The dye didn't last due to a hair treatment I used on my hair a few days later. The treatment removed a lot my colour. For some time my hair has been a subtle gradient from brown to reddish-brown mid-shaft and at the ends of my longest layers, black. I didn't mind because the gradient was only obvious under bright light.
Beauty Bulletin and Garnier sent me the Garnier Nutrisse Ultra Color in 5.25 Frosted Chestnut. The Nutrisse Ultra Color dye is a permanent nourishing hair with ultra visible reflects. Garnier has formulated a new conditioner that contains 3 oils and claims to have 8 weeks of anti-dryness. The conditioner contains almond, olive and avocado oil. The top right flap of the box can be removed and stored in my purse so that I can remember the exact shade should I want to dye my hair with the same shade. The box contains an applicator bottle of developing crème, a tube of nourishing color crème and 1 bottle of nourishing conditioner. It also has a pair of gloves and an instruction leaflet.
I chose 5.25 Frosted Chestnut for two reasons. The first being that I couldn't go much lighter than a medium brown due to the henna in my hair. The second is that I anticipated that Beauty Bulletin would only send one box. Even though my hair is thin, it is long and if I took a vastly different color and the box was not enough I'd end up with blotches. Seeing that Frosted Chestnut is only a few shades lighter than my natural hair color and similar to the henna in my hair, if I did end up with blotches it wouldn't be obvious.
I washed my hair the night before so that it would be dry and product free when I dyed it. I de-tangled and divided my head into four quadrants and clipping each section up. I started at the roots of the front quadrants, that way if I did end up with too little product, at least my hair on top would cover the blotches. I used my hands and a wide tooth to quickly spread the product. After I completed the roots of all four quadrants I applied the product to the length. It was enough to cover my hair, but truth be told I spread it quite thinly. If you have long hair get two boxes.
Before I became crazy about hair care, I dyed my hair a different shade almost every three months. So I had become quite a pro at ensuring that I didn't get any product on my skin, clothes or the floor. Clearly I lost the ability to do that. I managed to get product on my forehead, both of my arms, the basin, the floor as well as my left big toe. Only my big toe still has a slight mark.
The conditioner smells divine, mostly due to the avocado oil. It is also super thick and creamy. I tried using all of the contents in the small bottle, but then I realized that I already had too much on my hair. I still have a little left that I intend on using the next time I wash my hair (never shampoo your hair within three days of dying it).
After styling my hair, I was surprised at how light it became. Honestly I didn't expect it to lighten much. However, it was shined a very reddish-brown. I did not expect it to have such a red shine and if I knew that, I would have taken the darker brown. The shade is lovely, but it's just not what I wanted. Fortunately the color settled over the past few days and it's not as red, but more brown. With the exception of my hair being a bit darker at my ends due to my black dye, which I don't mind because I need a trim, my hair is one shade. My hair is also not damaged and it feels smooth. Unfortunately my camera makes my hair look darker than it is, but hopefully you can see some difference in these pictures.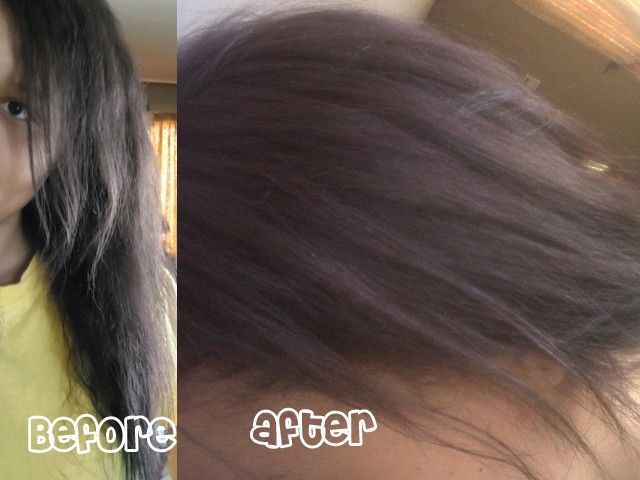 I know my hair looks terrible in the before pic. I was not going to blow dry it just to dye it and blow out my hair again.
Check out my rating for Ultra Color on the Beauty Bulletin site here.